"Enjoying 'walks' is sort of a cliche. I consider myself an avid pedestrian, but while technically relaxing I also see walking an act of impatience. I like bloody-minded trudges from point A to point B when other means of transport would require waiting. So to experience the famous Golden Gate, I figured the most appropriate way was to walk from one end to the other.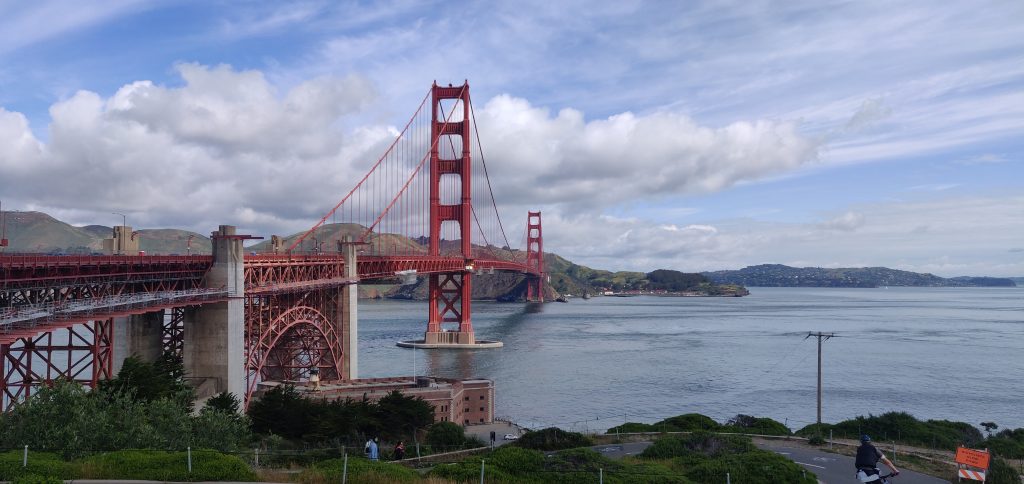 The bridge itself was massive. Better writers than I have described its grandeur. It's probably the biggest single thing I've encountered. It felt as solid as stone gazing at its cable stays, the tension invisible, but you could feel the legendary elasticity of the steel structure underfoot when vibrations from traffic rippled across its surface.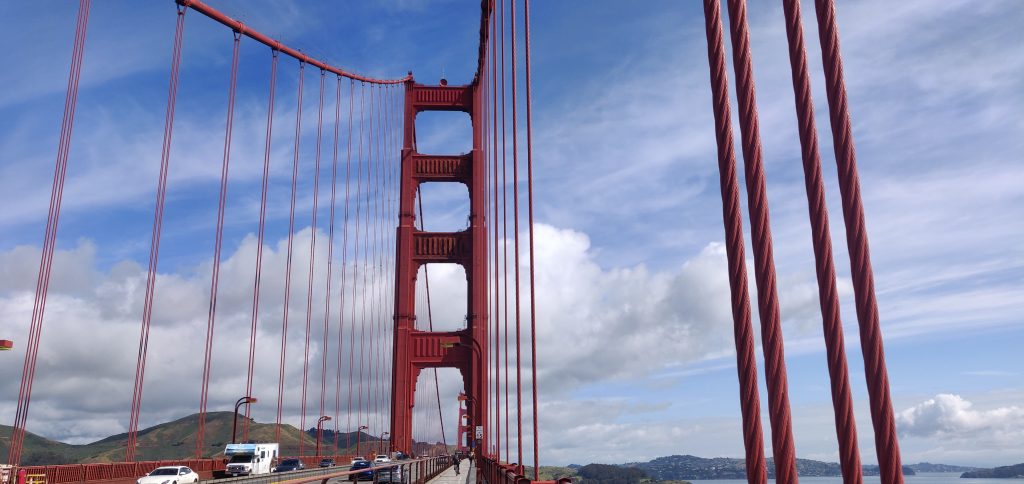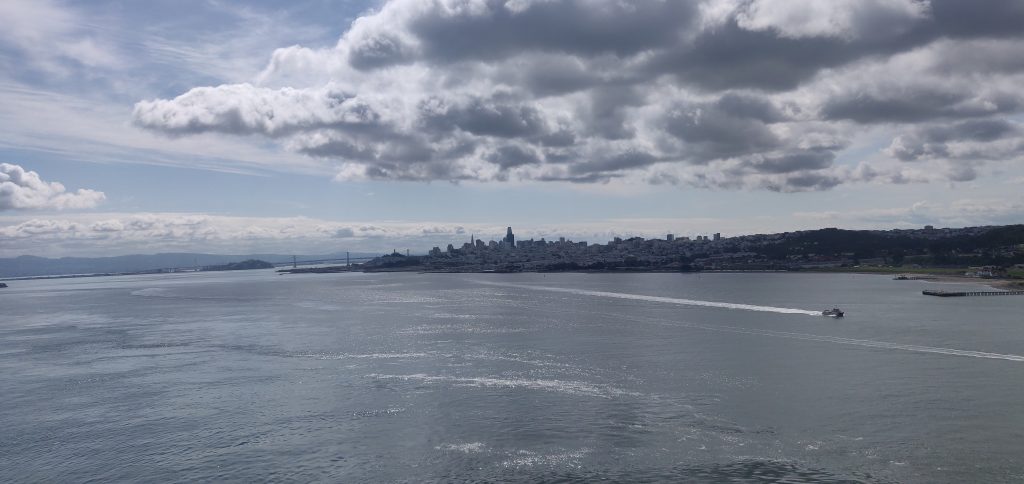 Do I recommend crossing it on foot? Well, it's a bit loud. The views of the city, bay, and mountains are very nice. The constant reminders that people jump off the thing were a bit spooky. The traffic tended to stay below 80db but a bit louder as vehicles hit rough patches (joints?) in the road. I wouldn't recommend earplugs, because you're going to need your situational awareness to avoid blocking bikes.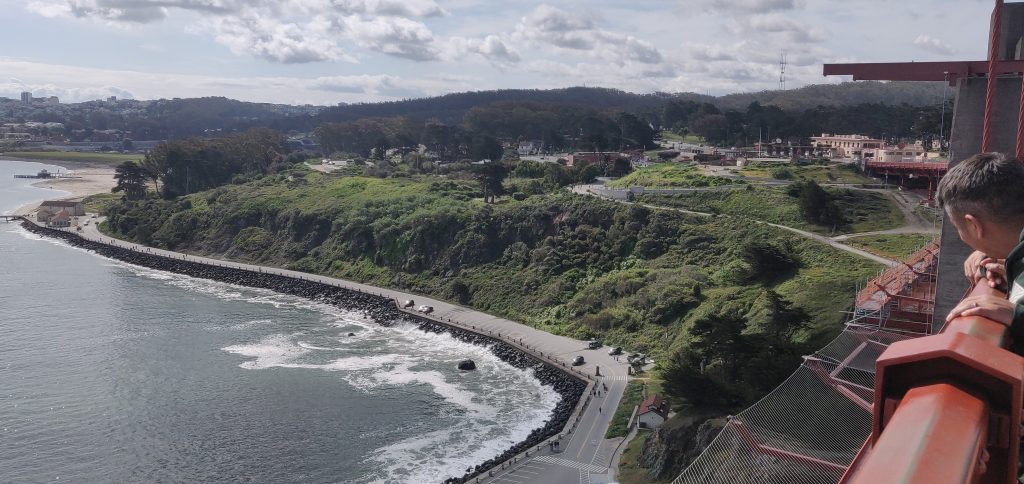 About halfway across, I spied a lookout on a mountain high above the roadway. 'I am gonna climb that' I said to myself. As I got further, my resolve strengthened; the view was bound to be amazing.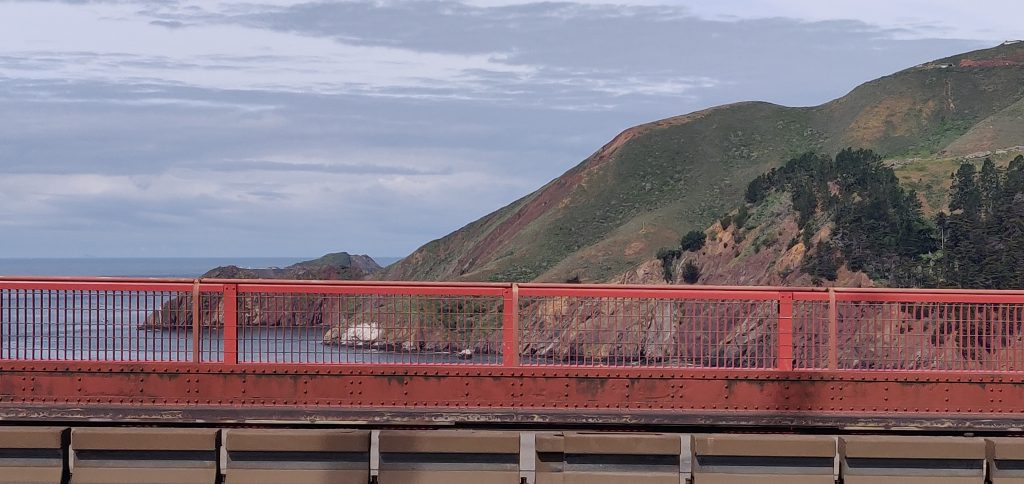 I didn't spend much time at vista point-I was eager to get to whatever path lead up that hill, which turns out to be the former home of Battery Spencer. There was a nice shortcut to avoid the road and see some wildflowers.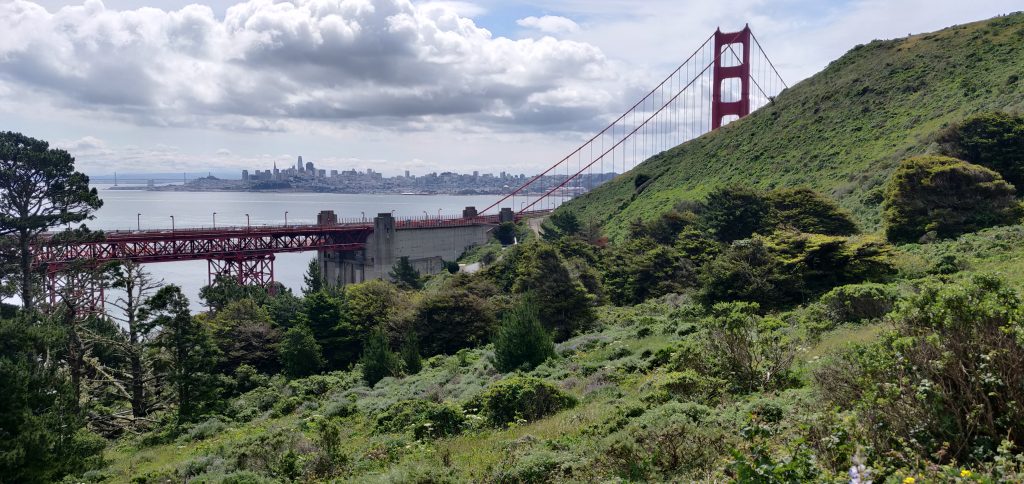 Battery Spencer had some great views of the bridge and the headlands, but I couldn't help but once again gaze up! Roads cut into the sides of these mountains invited me to climb higher. Once again, I elected to press on.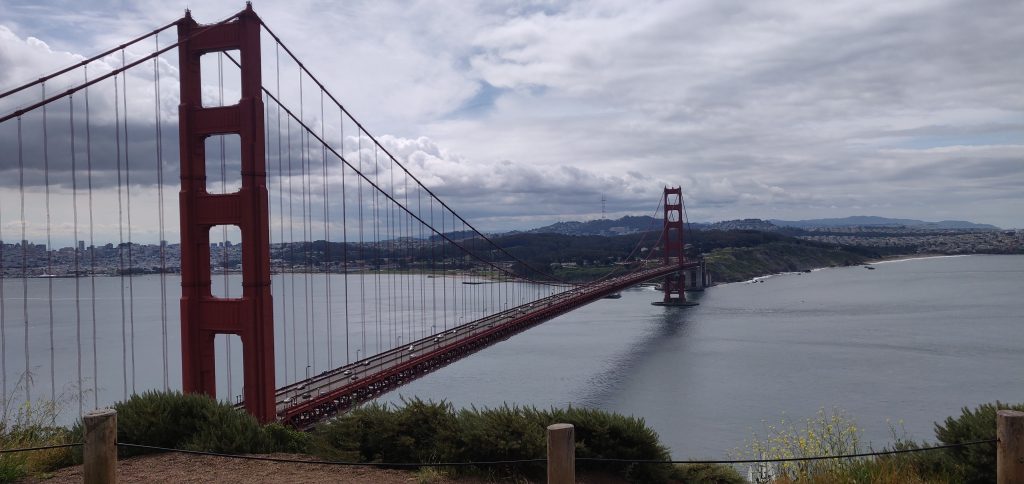 The views of the mountains sweeping down into Kirby Cove were breathtaking. I really lucked out on the weather. There was a rough path beside the road. The grade was merciful, but you couldn't escape the feeling of being at the top of a very long fall. The roadcut had changed the erosion timeline for these hills, and every inch seemed to threaten imminent rockslide. Thrilling, to be sure.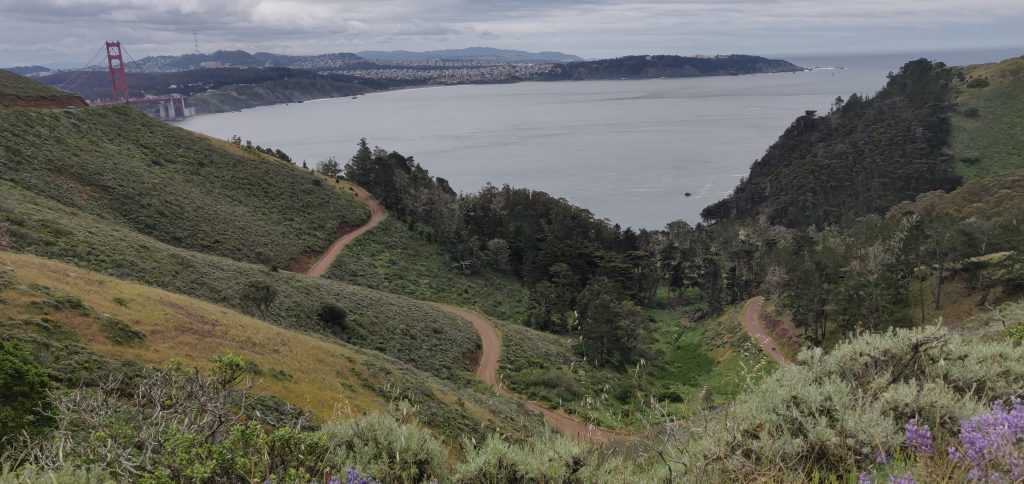 I'd told myself 'ah, I can make it to the observation deck' but once I got there, again, I saw a higher peak: there was a great lookout (and more treacherous road) at what turned out to be Hawk Hill.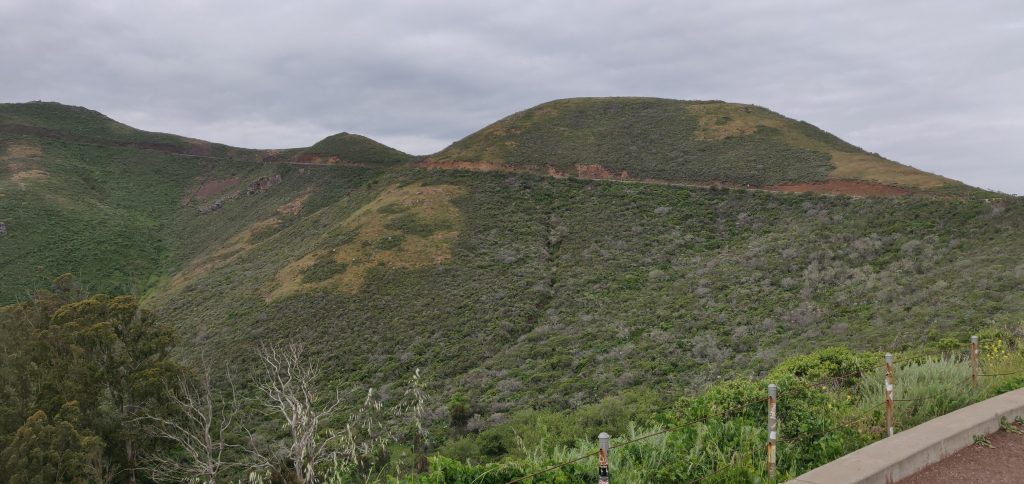 I was starting to feel the climb then; I regretted not taking any water with me, that would have been smart. But as unplanned hikes go, at least this one was done on a full stomach. I salute the bikers who were passing me on the way up-this must have been a tough climb. The reward on the way down, I imagine, is probably worth it.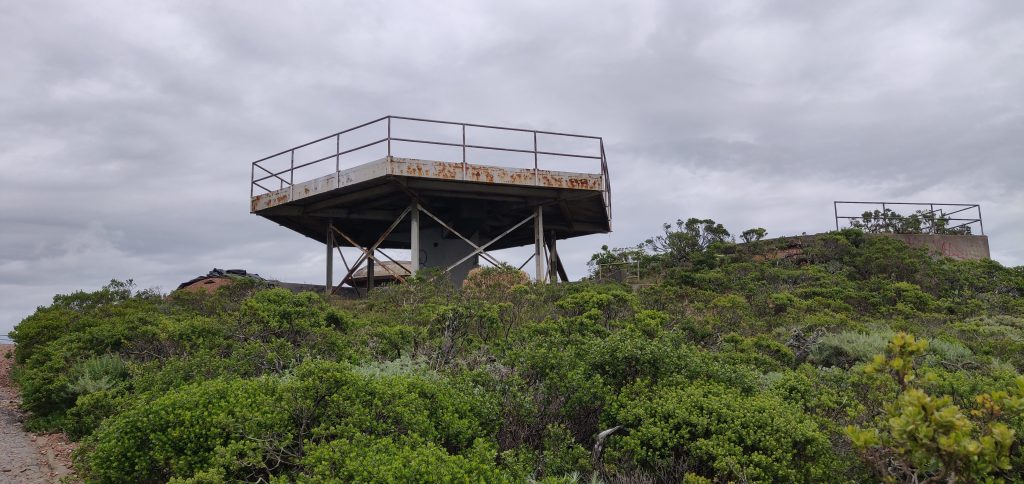 Hawk Hill turns out to be not just one observation deck with views of the city, but also an unfinished battery '129' with tunnels you can enter – fans of STALKER or Fallout will enjoy the ruins here.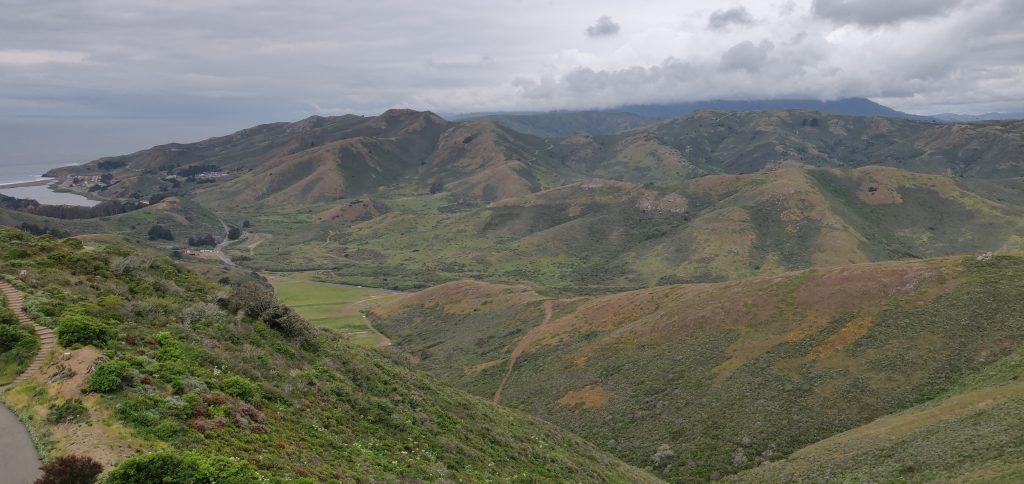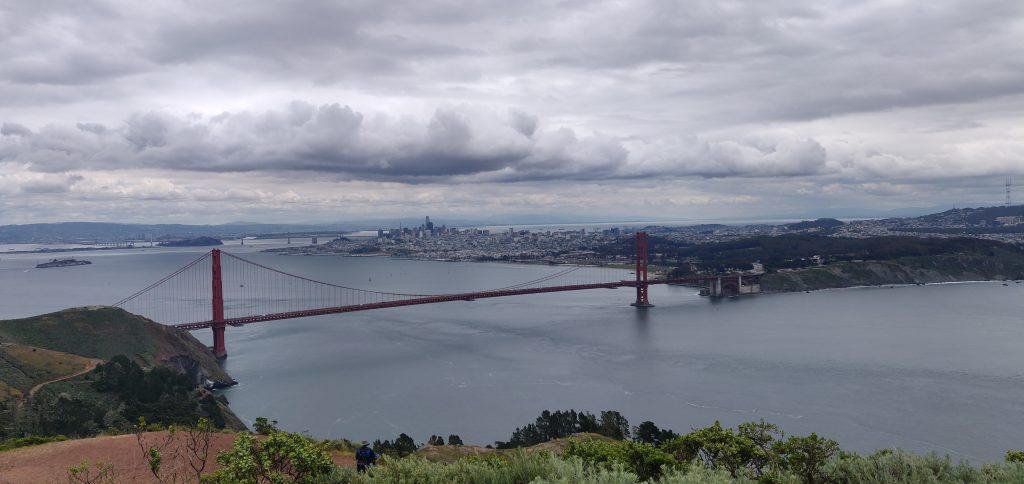 The very top was only a short climb away, and the view was well worth the hike. Walking the headlands was a much more pleasant experience than the bridge with its noise. Somehow the actual danger of those sheer cliffs was more tolerable than the much safer bridge plastered with memento mori.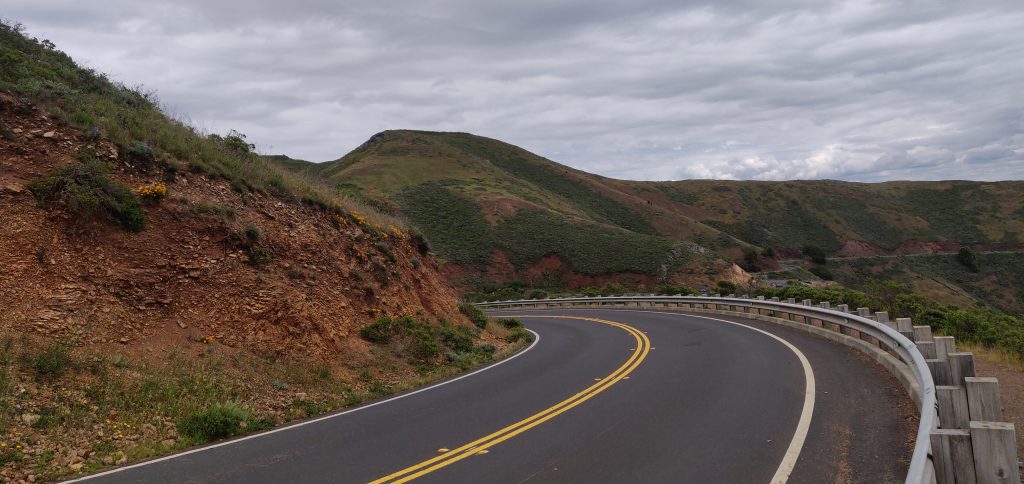 I will admit, dear reader, that when I reached the summit of Hawk Hill I felt ready to call it quits and take a Lyft back to civilization. It was not to be, however, so I descended back to Vista Point once again on my own steam.
After recovering in Sausalito and taking the ferry back (a trip I highly recommend even if you skip the hiking) and enjoying the ferry terminal, I took a slow (recovery?) stroll through the city (go to City Lights if you can) before one more time being seized by the desire to walk up a hill.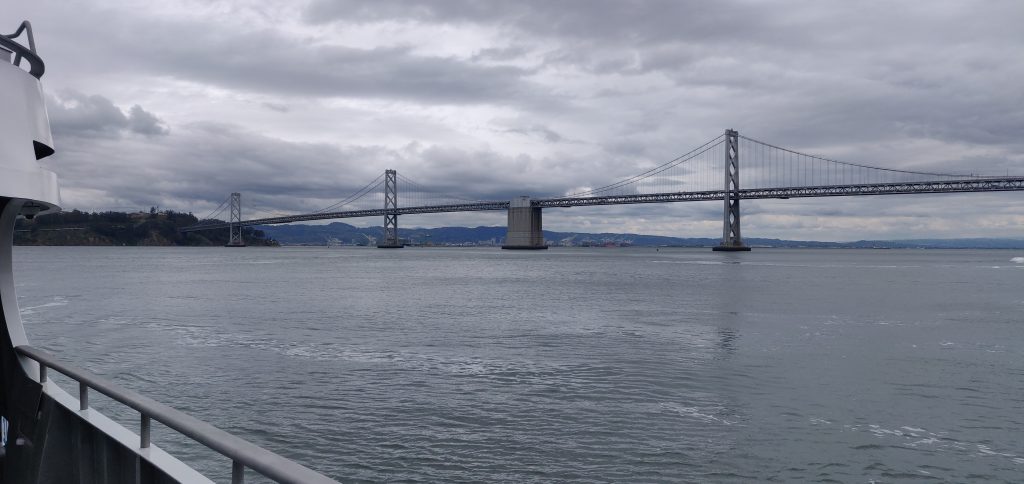 Telegraph hill turned out to be the toughest climb of the day. I went up Filbert Street, which attacks the hill head on. After a day of lazily winding roadcuts, it was brusque to say the least.
You'll just have to take my word on the last bit, I'd burned out my phone battery so no pictures exist!